Review: Metal Gear AC!D (PSP) - Like a glass of ice cold Awesome...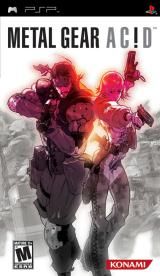 Where would we be without Metal Gear? Probably playing Pac-Man, that's what I say. I'm right, so just concede to that and move on. Metal Gear has been on the leading edge of stealth action/adventure games. It's plowed the road for games like Splinter Cell and Spy Ops. Though there have been imitators, no game has managed to pull it off as well as the Metal Gear series. No game has ever offered cutting edge story lines as deep and intimate as the MG games. I think it's safe to say the entire series, as a whole is among the best videogame series ever. It's just a mind blowing experience to pick up and play a Metal Gear game. Cut-scenes that appear to be directed by full on film studios, mixed with a few innovative gameplay elements, tossed with a light dressing of stealth, and you have Metal Gear in a nut shell...or salad bowl. While Metal Gear AC!D isn't really going to change your mind one way or the other if you're a lover or a hater of the Metal Gear series, it's still a stand alone gem.
Rather than rehash the old "infiltrate and murder it up yall" attitude that Kojima has gone for in his other games, MGA is a turn based card battler. I know...I know. You're thinking: "Yoo-Gi-Oh! Sux! OMG! STUPID fruity kiddies yu-gi-oh cards, OMG liek POkemon, lol!". I stay stop now. Stop while you're behind, far far behind. While the idea of selecting cards as abilities is reminiscent of card based monster games like Yu-Gi-Oh! Duelist of the Roses, or Pokemon the card game, MGA offers up a wholely different experience. Rather than summon monsters to move and attack on the field, you play as Snake (and later his temporary side kick Teliko). You're armed to the teeth with a deck of cards (RAZOR SHARP cards!). Sacrificing a card, or using movement cards let Snake traverse the playing field which is divided up into blocks. Movements range from 3 - 8 blocks, dependant on the card chosen, and you're also given the option to stand or crawl (in case any dastardly vents happen to impede traffic). You can equip weapon cards, and load them with ammo, or you can simply whip out a FAMAS or SOCOM card which requires no "ammunition loading", and fires on use. Damage to the enemies varies whether your positioned in front, to the side of or behind the enemy. The name of the game though is stealth. Avoiding conflict together is the prefered method, but when push comes to shove, some of them terrorists just have to be put down. Which is why you can also play specific "character" cards, which often come with a unique clip of the character on the card from whichever game they happened to have starred in. Effects range from increasing your attack stat, knocking out enemies, to lowering their attack, to just plain ol' killing them. There are other cards that heal Snake, make him invisible (via handy dandy stealth camo), increase the amount of turns he can take or draw new cards, and while integral to the strategy of MGA, aren't nearly as wow-ful as the special character cards. All cool factors aside, MGA is a very deep strategy game.
The cards you play are associated with a "cost". The larger the cost, the longer it takes for you to play another card. At the end of a set of turns, the player with the least amount of cost goes next, and the queue works itself out until it makes it's way back to you (assuming you aren't killed in the process). High cost is usually associated with powerful cards, but the effects and results are generally worth it. The cards range from a variety of games (95% of which are Metal Gear related), and are all offered in their own unique booster packs. At intermission - the state in between missions - you have the choice of editing your deck or purchasing new booster packs of cards. Initially, only the Metal Gear Solid pack is available, generally yielding cards related to Metal Gear Solid (suprise suprise), like Revolver Ocelot, Liquid Snake or Metal Gear REX. You'll later unlock Metal Gear Solid 2, Metal Gear Chronicles, and the super sexy, and super powerful Metal Gear Solid 3 decks. Each offering up to 50 different and unique cards each. While it's hard to pin point why Konami went through with this method of play, it's not hard to see that it works. There are no kinks to work out here. This is solid turn based tactics style gameplay, and at it's core MGA is a FFT, Tactics Ogre and Bahamut Lagoon wannabe; only instead of fiant axes of serpentine dragons, Snake fights you with cards (a la Gambit?!). You can equip Reaction cards, which include the likes of guns, armour, and special character cards, which activate when an enemy attacks you. Snake or Teliko promptly retaliate with the equipped weapon, equip armour to reduce damage, or activate the character card to do either of the two plus some. The reaction is dependant on the percentage of activation which throws in some randomness to the battles, which can make or break you in some instances. There are roughly 200 cards and some change, so there is no shortage on possible strategies here.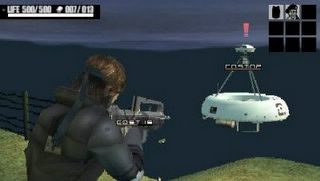 All gameplay aside, the plotline woven through MGA is not unlike any other Metal Gear game: convulted and complicated enough to warrant at least 2 playthroughs. Snake has to infiltrate laboratories with an uncanny amount of acronyms, and recover "Pythagoras" data, which is also known as the new Metal Gear. The story plays out with the classic back stabbing, obligatory "Oh my god, you were really that guy all along!", and "What the hell?!" moments. No MG game would be complete without a healthy portion of codec conversations, and copious military jargon. The downer here is that the cut-scenes are simple illustrations with captions, and there is no voice work to speak of. While it doesn't really make the game any worse, you just don't get that involved with the story without that humanization of Snake and his compatriots.
To make things worse, the gameplay tends to be on the slow side in the beginning (later picking up momentum as your deck builds power). To solve that though, you can replay missions with specific objectives like "Get to point 'BLAH' without getting spotted", or "Kill everyone! Mwahahahahahaha!" (maniac laughter added for dramatic effect). Completing missions yields points, points are traded for cards, and cards kill people. Rinse and repeat. Metal Gear AC!D also comes equipped with WiFi multiplayer battle modes, where you can pit two decks against each other. This isn't really that great of a feature, as it's more monotonous than anything, and really drags down the game speed, as players wait out each others moves.
MGA ends up being a very solid strategy game. With special cards available from all Metal Gear games, and even some non-MG games (like Zone of the Enders The 2nd Runner), this game encourages the collection of all special cards, as their effects are longed for, and special video clips are fun to watch at least a couple times over. No voice acting, shallow dialogue, and unimaginative cut-scenes really drag down the experience. Overall, Metal Gear AC!D is one hell of an experience. The story IS interesting, albeit plainly portrayed, and the gameplay IS fun, albeit stomachable in small doses. There is quite a lot of potential here to create one of the first cohesive card battlers, I just hope Konami realizes it, and creates a sequel worthy of being held in the same regard as the Metal Gear Solid series.
Verdict
8.2