Review: Meteos (DS) - Pummeling you with mediocrity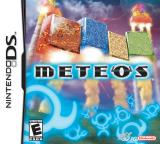 Meteos comes from the genius behind Lumines for the PSP, Q Entertainment. Not unlike Lumines, Meteos is an innovative puzzler but doesn't retain the wholesome gameplay values found in Lumines. Your "planet" is being bombarded with a deluge of meteos, which you mystically line up into rows or columns of 3 or more and morph them into rockets which you launch back at an enemy planet. That's a mouthful. The meteos rain down in a spectrum of destructive colours, so ingesting hallucinogens before playing Meteos is not recommended. Meteos lineage, which is drawn back to Lumines, is rather impressive; which is why it's so frustrating to see this game be so mindlessly average. I do mean mindlessly literally however. The game is clueless, and anyone without a clue can still play and finish Meteos. Where a game like Tetris proved how deep simplistic game design can be, Meteos epitomizes how simplistic game design, if not handled correctly can have devastating side effects.
When your last outing into videogames was Lumines, following it up with a game that matches it is almost an impossible task. Mizuguchi-san of Q Entertainment, the mastermind behind Lumines has created Meteos, and for what it's worth has let us down. For starters, the visual aesthetics are overly complicated, busy, and clutter the screen tremendously. The HUD surrounding the game field is unnecessarily clutterd with radar graphics, and superfluous maps and windows featuring pictures of planets. What all this does is narrow the playing field significantly, making the only part of the screen you focus on a thin strip in the centre of the touch screen, which begins to fill up as the meteos incessantly fall from the top screen which merely displays a planet, and fancy planetesimal designs that add flare, but no substance to the game. All things considered, the DS screen is already incredibly small, so narrowing down the field to half of that leaves the player wanting. These psychedelic colours and fluff are only part of everything surrounding the game, not including the actual gameplay surface itself. It's all very distracting and makes playing the game more difficult than it should be.
In each stage, you're charged with fighting off a hostile planet by sending the meteo fragments back into space, aimed right for said enemy planet. Each stage is it's own planet, and there are quite a few planets to face off against. Apparently planets pose great risk to whichever race you represent, so destroying them at all costs is the primary objective. The only planet posing any great risk is planet Meteos, however destroying every planet on the journey to planet Meteos seems to be necessary. All this said, this game is still just a puzzler, so this whole idea of weaving a plot through the many holes in this game doesn't make it float any more, because it absolutely sinks. The plot is again superfluous fluff that adds nothing.
Meteos fall at a steady rate in the narrow half screen you're left with, and there are about 6 different coloured meteos per round, so multicolour rain is only par for the course. Herein lies the problem, the colour just becomes too much. I'll explain later. As the coloured blocks fall, a la Tetris, they begin to pattern themselves in random fashion and you have to align them into rows or coloumns of three or more identical blocks. Once aligned, the blocks transorm into rockets which begin the initial launch phase of shooting the meteos back into orbit. Once airborne, the initial alignment acts like the fuel for the secondary launch. Align blocks already on the rocketized blocks, and they'll begin a second launch phase leaving the screen, headed straight for random enemy planets. The objective is to destroy each planet, at least in the primary mode known as Star Trip. There's truly a robust puzzle engine here. This idea, this concept is genuine and is truly challenging and fun. However the game itself clutters this ideal, and makes it unnecessarily difficult and distracting.
The random patterning of the coloured blocks creates a daunting wall of technicolour mayhem. Even on the easiest setting, the meteos fall faster than you can blast them into space. The colours are just so distracting and chaotic that finding the possible chains and alignments is often made overly difficult just because as you look for a single colour, the other colours cloud your vision as you optically wade through a soup of colours to find only a single block, making finding chains you'd normally pick up well on, tedious. It's just a mess. It is possible to eventually adjust your vision, much like adjusting to the low light of a dark room, but it's too long after the fact, and by then you've managed to discover the fatal flaw of Meteos. Don't get me wrong, once you've adjusted to the kaleidoscopic screens of confusion, if you haven't discovered this flaw yet, the game offers some of the best challenge since Lumines (however does not match it).
The flaw, if you're still wondering, is the fact once you begin to lose the short lived bouts of meteo deflection, you will frantically swipe the stylus across the screen "just for the hell of it", as you've already predicted the inevitable loss anyway. What you begin to notice is that this tactic is more effective and more efficient than anything you've tried before. Yes, brushing the stylus up and down the columns of meteos will allow players to find alignments, chains and sequences of meteos not otherwise visible due to the sea of lush and disorderly colour. This in and of itself, is the biggest reason why Meteos falls flat on it's face. Once you've discovered this simple yet effective tactic, Meteos turns into a mindless brush-a-thon, mindlessly scratching at the screen to catapault meteos back into space. It's extremely shallow and disingenuous.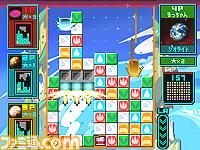 While the audio quality suffers from background static, the music is enjoyable and the sound effects distract you from how poor the game design is here, if only for a short while. The game itself suffers from a painfully fatal flaw, but sports a lot of game modes, and the abilitiy to synthesize new items and planets to play with is fun to do, but actually using them is hauled back several notches because the game is so poorly organized. There is a healthy chunk of unlockables, but the incentive isn't there to play the game long enough. While I could recommend that you avoid using the "swipe and win" technique, it's an easy thing to resort to since it's so effective, and such a great way to avoid tight spots. For such a shallow game, it still has some lasting appeal, regardless of how short it actually is. It isn't a complete failure, and I'm sure some will find enjoyment in Meteos, just not the people who discover the easiest way to win a game since the level glitch in Final Fantasy II.
Verdict
6.5