Review: Paper Mario The Thousand Year Door (GC)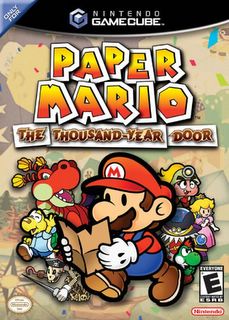 Nintendo is no longer a game developer worth noting. Their games are created with minimum budget in mind, and maximizing quality as an afterthought. So long as they make a game, they're happy. Well I'm not. When I play RPGs, I want something worth the 30+ hour investment. Degenerate rehashing for 10 year olds is not what I call a game for "Everyone". While Paper Mario: The Thousand Year Door sports an "E" rating, there is no question that the appropriate rating should have been "EC". The only age group this game appeals to is the unintelligent and simple minded children. The game offers almost nothing in terms of strategy, plot or character development, and the visual appeal is quirky, yet lazily accomplished in a rather painfully obvious fashion. While I have nothing against cartoony visuals and almost kiddie like character, I don't appreciate it when the game starts treating me like a child. The best example of this kind of game is Kingdom Hearts. The childish appearance is not to say the game itself mirrors that aura. Kingdom Hearts heartily presents itself with a deep and mature plot, with just as deep gameplay, with brain teasing puzzles, and complex combat. Paper Mario does not exemplify this quality. In fact, it manages to be one of the worst games ever created, but not only that it alienates every Mario fan who knew Mario as the platforming fiend he was born as.
First off, I'll get the "okay" to "meh" elements out of the way. Visually, Paper Mario (2) manages to pull off the floaty paper effect rather well. There's no complex shadowing, texturing or even renderng. Everything is a 2-D paper cut-out, with the occasional 3-D paper (origami?) model. It's a unique characteristic of the Paper Mario franchise, and it gets the effect it goes for. There's no denying that the very infantile animation style of the charaters is limited in it's appeal (to children). If there was ever a game that completely went against Nintendo's "We really are trying to appeal to everyone", this would be it. Anyone who finds this game enjoyable and is over 12 years of age should have their maturity brought into question. It would be the same as a grown adult finding great pleasure in watching repeats of the Care Bears. The paper effects of the game are short lived. Mario can roll up into a roll of paper, turn himself sideways to a paper thin profile and fold himself into a paper airplane or boat. Again, the effect is gained but it's short lived. The abilities are never used for any complex puzzle solving. Merely a means to traverse to new areas not reachable by normal means. Again, there's a lot of potential with abilities like these, but never is that potential realized let alone even considered.
To say Paper Mario is a simplified RPG would be an utter understatement. As an RPG, the game is a catastrophic failure. Is it simple? Do children pick their nose and eat it?. Mario and one of his many party members battle the koopas, goombas, and bob-ombs of the Mario universe. However Nintendo does a horrible job of creating a battle system that works. Mario and his companion deal on average 1 - 6 damage to enemies. Yes, that is absolute maximum in terms of normal hits. Apparently Nintendo thought first grade math was overly complicated for this game, so all the stats, Damage and HP counting is simplified to an almost comical (no, actually not almost) level. You start off dealing one damage to enemies with a mere 2 HP. Work your way up to dealing 6 damage to enemies with a maximum of 150 HP (?). What?! 150? Nintendo, in case you didn't know (I'm guessing you really don't with that brainless Iwata running your show) numbers do exceed 3 digits. In fact you can have upwards of 4...even 5!? Blasphemy, everyone knows more than 3 digits is far too many for the target audience of Paper Mario 2! As I digress (which I rather enjoy doing), please note that my mockery is indicative of the unsatisfying character progression. In a paltry (RPG sub-standard) 30 hour game, your character goes from having 10 to up to 60/70 HP, and dealing 1 to 6 damage...any RPG fanatic knows there are thousands of things wrong with that; most of them being the missing damage of HP Mario should be dealing. What's the explanation? There are a couple. Nintendo is a newbie in the world of RPGs. Never have they created a quality RPG, and this game is no different. The second is that Nintendo is and always will be a children's gaming company. They create games for the sole purpose of pleasing children under the guise of "We make games for Everyone". No you f*cking don't. End of story.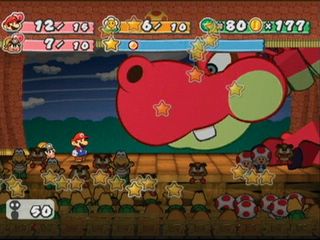 As I continue to digress let me iterate another point about the horrid combat system. Strategy? Have you heard of it? Good, you should collevtively email Nintendo with a link to the word "strategy" from www.dictionary.com. Apparently they didn't get the memo. Deciding to chose between jumping and using the hammer based on whether or not the enemy has a spike on it's head or encased in a plume of fire is hardly strategy. It's f*cking common sense. Your abilities are limited to the Hammer and the Shoes, jumping and smashing. Thats it. You can use "Super Jump", or "Ultra Hammer", but they're merely variations on the plain abilities with very little added effects. Your partners are no different. One thing that struck me as odd was the defense of the game. You can press A before an enemy attacks to reduce the damage, or during an attack to perform a stylish move, but there is no indication of timing. It's a common excuse to hear that "The timing is too complex for kiddies thus the game is for adults". Thats the same backwards thinking that is keeping Nintendo and it's fans in last place on a constant basis. The timing is difficult because there is no indication of when to press it. In fact, you need to purchase an item more than halfway through the game to learn the timings for the button presses. You can learn them on your own, but after a very annoying trial and error process.
Apart from the battle system, the plot and dialogue are pathetic. No, less than pathetic. It's atrocious. First the plot; the premise: Find the Crystal Stars before the "X-nauts" (because everyone knows the letter X is about as extreme and hardcore as the Japanese using 3 consonants in a row) to unlock the thousand year door. Yes my friends, that is the plot from start to finish. Snippets of Princess Peach and Bowser are added as a bogus afterthought, and really contributes nothing to the overall story telling. If there were more to say I would, but for 30 hours, you trek from bland forest to harvest moon in search of the crystal stars. Yes, 30 long grueling hours of this game's horrid combat engine and contrived plot axis. Apart from the plot, the dialogue is lame. No, beyond lame. It's insultingly childish. It would be slightly less painful were the dialogue actually humourous or jovial, but it ain't. It's broken. Not only is the game riddled with "Please don't die Koops, I love you like a lovely loving lover love" and "This guys is bad, we must fight him", the game plays on every single racial stereotype in existence. Proving while imitating and mocking the italian, russian and french accent that Nintendo is incapable of creating a good RPG, but that they're also racist! Go Go Nintendo Rangers!
With nothing to offer, and nothing worth seeing, anyone can do without this game. It's an atrocious piece of software, and it gives a bad name to the RPG genre. As a long time gamer, I'm pleading with you: never play this game. It's a gigantic wreck from start to finish and is entirely oriented around children under the age of 10. There would be nothing wrong were this a game directed at the audience it actually appeals to, but Nintendo insists this game appeals to my age group, and to no suprise, it doesn't. If there are 20-somethings out there that enjoy this game, you've either never played another game in your life, or you're mentally ill. Seek help. This game is worth nothing more than my lowest recommendation, and is about as fun as watching Orange Vs Banana.
Verdict
0.7