Review: Geist (GC) - Metaphysical steaming pile
Geist is one of those games that does a few things right, but is hampered by another few fatal flaws that just ruin the entire experience. The game stars John Raimi, a medium and recon private in a futuristic army. You're sent into an undeground operation, only to be taken captive and have your ethreal spirit torn from your physical body. You then must use your powers as an invisible and haunting ghost to get your body back and stop the Volks coproration, which is using a portal to hell to create an army capable of taking over the world. Fairly thin on the surface (and arguably a total scam on Doom 3), but the plot of Geist, while not nearly as complex as say Metal Gear Solid, Killer 7, or heck even Killzone and Halo, is still a mature storyline that looks good on Nintendo and their second party developer N-space. The game, unfortunately, doesn't fair quite as well.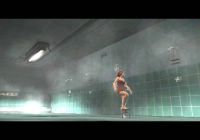 First and foremost, the game is at max a 10 hour game. There are only 9 missions, and each is do-able in under an hour, even when you run into one of the games many, and frequent glitches. I'm not one to complain about game length, but that rule only applies if the game I'm playing is worth playing again and again. This is not one of those games. The game takes a first person approach to the adventure game; and no it is not a "first person shooter", since there is equally a number of first person "adventuring" missions as "shooting". So for argument's sake, it's a first person adventure game. Fair enough...now where's my adventure? In ghost form, Raimi can scare humans and other living creatures into a state suitable for possessions. Geist plays up the possession of people and objects quite a lot. In fact, apart from the story, the possession is by and large the best part of the game. You aren't in any position to be fighting or attacking enemies in ghost (spirit) form, but you can solve puzzles that allow you to progress from one area to another. An example of this possession puzzle solving is when you possess a small mouse and return it to the owner, who then shoves you into a small cage. You awaken to a small room with a woman, a dog, a bird and a bunch of equipment to possess. In order to progress, you must possess a light bulb, which you can then explode using the "host action" ability, which then scares a talking parrot beside the exploded bulb. You then possess the scared parrot to sqwak and eerily screech ghostly voices, which then scare the woman. Possess the woman, and leash the dog, which then lets you scare one of the game's main enemies, who has an inate fear of canine kind. At times like this the game throws you into a daze of awe. The spirit mechanics are very fun, but only make up about one third of the entire game. The rest of the game is possessing people with official clearance to enter certain rooms, and last and certainly least, possessing people with guns who can shoot through the army of soldiers who apparently shoot to kill anyone who looks even remotely suspicious. Nice guys, huh?
The first person shooting is atrocious at best. First and foremost, there's an artifact of the Gamecube controller that will automatically make all first person shooters inherently bad on the the console: the c-stick. It's barely functional as an aiming/movement tool. So right there, any and all FPS'ing in any game will have that strong slight against it, unless you're smart and design the game around a control scheme that doesn't do that, a la Metroid Prime. Four years in, there's really no excuse for it. The aiming reticle is violently touchy. I can't even recount the number of times I swayed the reticle back and forth across an enemies head as the game's touchiness tempted me to toss the controller at the screen. The reloading has a fair lack of responsiveness, as pressing Y to reload, will sometimes and sometimes not work. It's a gamble each time really. It's not as bad as it sounds, but a problem none the less.
The enemy AI is dumbed down to the point of enemies standing in one spot and shooting at you from 50 feet away with pin point accuracy. No really, an enemy will be an entire room away from you, firing at you with unparalleled accuracy, while you try to empty entire clips into him and hit nothing but air. This flaw in the game doesn't even take into account the massive amount of glitching the game does. The enemy types also don't vary much, if at all. There are only a handful of human soldier enemies, and even less "demon" enemies. The bosses aren't even that varied. In fact, I fought the same boss 4 times throughout all of Geist, and another boss twice (including one very obvious rip off of Katamari Damacy). When the game only has 9 missions, a four times repeated boss encounter is unacceptable, even detestable. Weapons vary even less. Tsk tsk.
Now, I understand graphics don't comprise much, if any of the games overall quality, but Geist's graphics are sub-Dreamcast at their very best. For a game that was delayed again and again, and has been in development so long some even thought of it as vaporware, you'd better have something to show for it. This game has nothing. It's as hard on the eyes as the action is on your hands. Not something I'd be willing to pay top dollar for, not even close. In fact, there are Dreamcast games that look better than this, and when you're dealing with a console ten times more powerful than said ancient and deceased console, failing to even meet a 6 year old standard is pitiful. I should also note that collision detection is as broken as the control scheme. There are even times when enemies from the floor below you half pop through the floor you're on. Pathetic.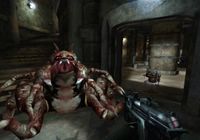 This is a great time to introduce the fact that Geist is a game that will glitch, and will glitch a lot. We're not talking simple collision detection problems, and not even severe collision detection problems. This isn't about a few textures not rendering, or even choppy framerates (which are all present in this game irregardless). No, these are game breaking glitches and they happen a lot. If you possess a living creature and back it against a wall, and dispossess them, Raimi's spirit exits through the back of the creature, and sometimes clips right through the wall into null space. You can't return to the actual game, and all you can see is the heads up display and a large black void. Restart! You'll be terrified to open every door, no not because of demonic minions lurking behind them, but for fear that the game will fail to load the next room. Three times in my entire experience with Geist, the game refused to load the room I was trying to enter, in fact it decided to stop loading all rooms. RESTART! There's even a point where you need to possess a key character in order to progress, but when I reached him he was a stand still mime, whom I couldn't even scare because his character model was frozen in place. GRRRR! RESTART! I counted a total of 9 game breaking glitches through the Geist experience. Glitches that forced me to restart the game on the console, while losing all of my unsaved progress. Unacceptable and utterly repugnant.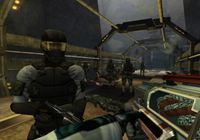 All in all, what Geist does right is the possession. It contains a decent plot, but nothing to go gaga over. The meat of the game is the possession, I just wish there was an even greater emphasis on it, and not the running and gunning. If enough thought were put into it, I'm sure an entire game dedicated to the possession of Geist could make for a remarkable title. There is a lot of potential in Geist, but it's fumbled at every opportunity. When it succeeds, it's fantastic, but the problem lies in that these instances are so rare, that they barely constitute any redeeming value. The game needs work; quite a lot of it. The glitches in Geist make the game near unplayable, and the shoddy controls frustrate the whole experience, especially during the shooting sequences. It's a technological blunder, and even worse as a total game. I for one would love to see the potential of Geist realized in a sequel, but for now, we're left with this terd of a game. If you're curious about the possession techniques of Geist, rent it, for the rest just stay away. Nintendo and N-space for now are completely inept at creating an adult, first person experience.
Verdict
4.5